Not so fast or furious - smart road advances changing the playing field
In 2021, we are always connected, be it to others or our possessions. The Internet of Things is transforming every element of the automotive industry - the way we buy cars, the way we handle cars, and the surfaces we drive on. Motor Finance looks at recent advances surrounding smart road technology.
Using a myriad of devices, such as speed sensors, smart traffic lights and digital signage, all encompassed under the Internet of Things, smart roads enable cities to collect and analyse data in real-time, reducing congestion and catering to long-term transportation needs.
It seems the age of roads as mere asphalt surfaces is no more. In its place a host of exciting developments transforming the way we travel.
Smart traffic violation detections
Road traffic accidents cause approximately 1.35m deaths each year and are the leading cause of death for young people aged 5-29.
One particular development in the smart road space has been to reduce cases of dangerous driving through smart traffic violation detection, citation, and notification.
More simply, if an individual is exceeding the speed limit, a wireless digital signpost will alert the traffic citation system, which will then notify the driver instantly via a cellular connection.
Acting as a deterrent, drivers will be unable to deny the presence of signs to traffic law enforcers as the voice-narrated signs will be sent straight to the vehicles advanced diver-assistance system (ADAS).
In 2020, Huawei launched its Intelligent Traffic Management Solution to address challenges on traffic law enforcement, traffic violation inspection, and traffic control using big data, AI, cloud, 5G, and more.
Yanbu in Saudi Arabia deployed Huawei's Intelligent Traffic Management System (ITMS) in 2019 and achieved "remarkable results within a few months," according to Thamer Anwar Noori, manager of Communication & Emergency System, Industrial Security & Safety, Royal Commission at Yanbu.
The ITMS consists of three modules that support the deployment of algorithms to detect violations and collect traffic information, analyse traffic data in real-time and employ an integrated platform to support rapid deployment.
Energy-harvesting roads
In December 2020, Peachtree Corners in Georgia installed Wattway panels to a section of its first-ever solar roadway. The roadway produces more than 1300 kilowatt-hours of electricity annually, which is then used for an EV charging station at the city hall, available to use for free.
French firm Wattway manufactures solar panels, only millimetres thin, which are glued to surfaces such as roads and pavements. Avoiding the need for any major civil engineering work, the surface is also treated to ensure the same grip as a conventional road surface.
Slightly more technical, piezoelectric roads use piezoelectric devices to generate electrical energy.
In 2019, researchers from Lancaster University fabricated and tested piezoelectric ceramics, that, when embedded in road surfaces could harvest and convert vehicle vibration into electrical energy.
The project lead, Mohamed Saafi, believes the research was "helping to produce the next generation of smart road surfaces".
The designs were developed to specific road conditions of Aylesbury, where the project is being trialled. Then, they were tested using computer simulations to determine the optimum number and locations of energy harvesting sections.
With field tests are planned for 2021, the electricity will be stored in roadside batteries to power street lamps, road signs and pollution monitors, and could be used for real-time traffic monitoring.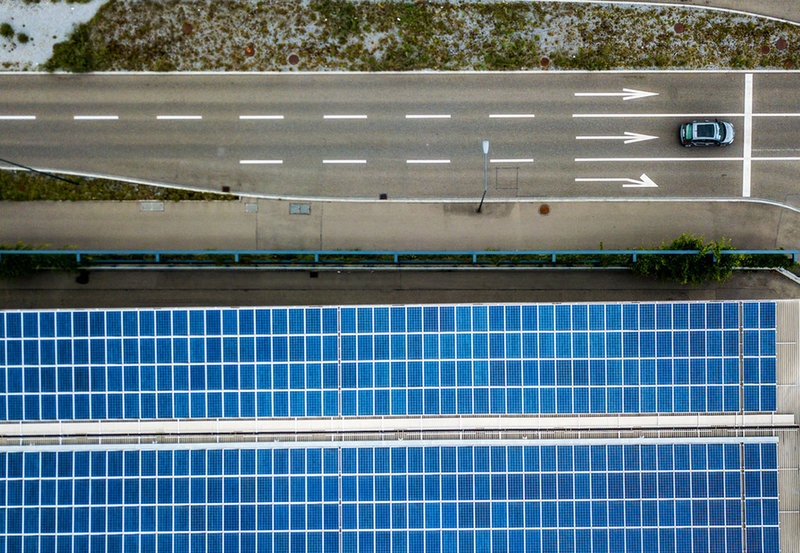 Electrified roads
In 2018, 1.2 miles of road near Stockholm in Sweden was transformed into an electrified road. With plans to deploy the technology in other areas of Sweden, Hans Säll, chairman of the eRoadArlanda consortium, said: "One of the most important issues of our time is the question of how to make fossil-free road transportation a reality. We now have a solution that will make this possible, which is amazing."
Based on conductive technology, an electric rail is installed into the road surface, which in turn provides dynamic charging to vehicles during their journey.
Faced with the major hurdle of inadequate charging infrastructure, the potential for electrified roads is huge and could be the missing link to widespread EV adoption.
Smart intersections
With a partially obstructed view, and vehicles travelling in multiple directions, road intersections are particularly prone to accidents. Smart intersections help to reduce collisions and enhance safety for pedestrians and drivers alike.
In November 2020, Vivacity Labs and Transport for Greater Manchester (TfGM) announced the roll-out of AI-controlled smart traffic junctions. Using sensors with inbuilt artificial intelligence, the junctions can anonymously identify different types of road users and control traffic signals, allowing different modes of transportation to be prioritised.
In hopes of sharing the project's key lessons across the UK, digital infrastructure minister, Matt Warman said: "We're backing this initiative in (Greater) Manchester to improve the city's transport, reduce journey times and cut pollution."
The Vivacity Labs algorithm can adapt quickly to changing traffic conditions and efficiently implement high-level strategies at local and city level.
Warman added: "Smart traffic technology is just one of the many ground-breaking areas the government is funding to pioneer new ways for artificial intelligence and 5G to transform our lives for the better."
Watch this space, or the car might for you.