Once European infection rates subside and lockdowns ease, we expect the sales running rate to become progressively better through the year.
The overall position for European sales would have been much worse if not for another strong performance by the Turkish market. West European sales suffered, with the Spanish and UK markets particularly badly hit.
GlobalData's base global forecast for sales in 2021, 13.2% ahead of 2020.
The UK's car sales forecast for 2021, a 21.9% increase on 2020.
IMPACT OF COVID-19 ON VEHICLE SALES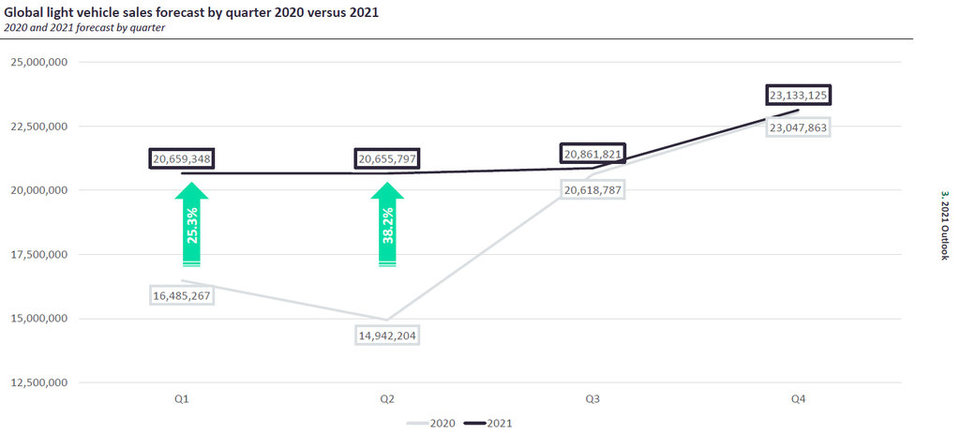 - SECTOR IMPACT: AUTOMOTIVE -
In China, sales of light vehicles saw a 429% year-on-year increase in February.
North America's sales fell by 11.5%, with sales in the US hit by a bout of severe weather and two fewer selling days.
With the end of the pandemic seemingly in sight as a slew of vaccines produce encouraging results from phase - 3 trials, GlobalData has taken a look at the leading OEMs and assessed which are best placed to recover quickly from the coronavirus induced slowdown.
Aside from a dose of good fortune a company's success is invariably linked to a variety of factors which tend to either fall into the tactical or strategic categories. As even the best -laid plans can often go awry, it is necessary to add to the mix how well those plans are executed and how they rate in comparison with competitors.
Top of the pile for operational leadership was revealed to be Tesla, followed by GM, Toyota and Hyundai. Strategically the highest rated OEM of those assessed was demonstrated to be VW, with Toyota, Tesla, Ford and GM in pursuit.
From here on we expect it will be a case of the global market preparing for a notional lift off as the exceptionally weak March and April of 2020 come into play. Our latest forecast sees a surge in sales of nearly 50% in March, with even more robust growth of 76% set to follow in April. Before anyone gets carried away the resultant market level for both months are expected to be short of sales levels achieved in the corresponding months of 2019 when epidemiology was not common parlance.
Once European infection rates subside and lockdowns ease we expect the sales running rate to become progressively better through the year.
Later quarters of the year will be driven by pent-up demand and whether that can carry into 2022 will be key for the medium-term development of markets as there remains considerable uncertainty as to the fundamental economic health of many countries once the crutch of government support is removed.
For 2021, our base forecast now stands at 85.2m – that's 13.2% ahead of 2020, but 4.3% shy of 2019's total. Volume-wise the bulk of that growth will come from the sector's established pillars of West Europe, China and the US.