The story in Europe: how did other countries fare during Covid-19?
One year after the pandemic arrived, the state of play looks radically different between the different European powers. Motor Finance's Hannah Wright explores the divergent Covid-19 responses amongst the EU5 and the Nordics, and the implications for corresponding industries.
Across the EU, 2020 saw the biggest yearly drop in car demand since records began. In April, the UK alone saw a staggering 97.3% decline in new car registrations, according to data from the European Automobile Manufacturers Association (ACEA). France, Germany, Italy and Spain took an equal battering.
However, in the face of the pandemic and nationwide lockdowns, all of these countries increased their subsidies and trade-in premiums – leaving only the UK market devoid of government stimulus.
Despite encouraging growth in the backend of 2020 across all EU5 countries, total new car sales across the EU contracted by 23.7% in 2020.
Upon closer analysis, the individual country statistics are less than alike. Attributable to the mixed bag of government-led pandemic responses, the state of the automotive industries across Europe hinges on several factors, namely: lockdown stringency, restrictions for automotive retailers, car purchase incentives and general economic support.
France
France fared reasonably well amongst the EU5 in 2020, registering a 25.5% annual decline, second only to Germany. As one of the first European countries to be hit by Covid-19, the French government were forced to implement lockdown restrictions comparatively earlier.
However, this also enabled the French sector to re-open their doors ahead of other countries, such as the UK.
March and April were the worst months for new car registrations with 72.2% and 88.8% decreases in new car registrations, respectively. June and July were the only two months to see increases when compared with 2019, likely attributable to the introduction of a generous incentive scheme.
At the end of May, the French government announced a €8bn rescue plan for the auto industry, including generous incentives for electric vehicles (EVs). Would-be buyers could claim up to a €12,000 grant when purchasing an EV, facilitating a green transition in the recovery process.
The incentive programme initially succeeded in boosting the market, evidenced by an increase in new car registrations in June of 2.4% year-on-year.
However, between August and December, demand was consistently lower than the corresponding monthly figures for 2019. In December, France suffered another double-digit loss with an 11.8% fall in new car sales, marking a disappointing end to a difficult year.
Germany
Europe's largest automotive industry, Germany's full year losses were the least pronounced amongst the EU5, shrinking 19.1%.
April and May were Germany's worst months for new car registrations with 61% and 49.5% respective declines.
September and December were the only months which registered an increase in new car registrations when compared with 2019. September saw the new car market grow by 8% whilst December recorded an encouraging 9.9% increase.
In response to the pandemic, Germany substantially bolstered their subsidies and trade-in premiums. The government released a range of rescue and stimulus measures to assist companies in navigating the pandemic, including incentives to buy EVs and hybrids.
Germany's principal incentive package for EVs proposed up to €6,000 on sales of new EVs, along with a 3% cut to VAT on those purchases. However, the programme was controversial due to the exclusion of petrol and diesel models, which constitute 90% of vehicle sales in Germany.
The impact of a second lockdown was substantially less severe in Germany. Automotive retailers saw a limited impact on sales, attributed predominantly to more favourable regulatory circumstances.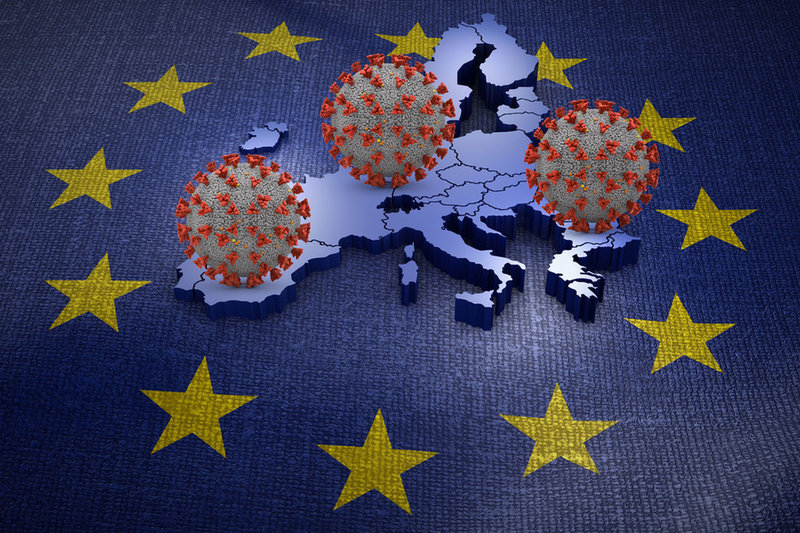 Italy
Italy was one of the worst hit markets amongst the EU5, registering an annual fall in new car sales of 27.9%, faring slightly better than the Spanish market. As in France and Spain, Italy was hit by a Covid-19 outbreak earlier than other countries.
March and April represented the worst months for the Italian automotive industry with an 85.4% and 97.6% decline respectively. April was particularly poor with only 4,279 new car registrations across the whole country. These numbers recovered slowly throughout May, June and July.
The Italian government's scrappage scheme, rolled out in late July, saw incentives of up to €4,000 being offered for the sale of new EURO 6 vehicles, with an accompanying scrappage of any vehicle more than 10 years old. Thanks to such incentives and the easing of restrictions, the Italian market was able to bounce back in September, recording market growth of 9.5%.
Unlike Germany, Italy introduced subsidies for low-emission combustion engine models. Unfortunately, a second wave of infections and the subsequent arrival of new restrictions worked to hamper demand further, across the final few months of the year, culminating in a double-digit loss of 14.9% in December.
Spain
The Spanish automotive industry was the hardest hit across the EU5, posting a 32.3% year-on-year decline. For Spain, April and May were the worst months, with respective falls of 96.5% and 72.7%. As in Italy, April was remarkably bad with only 4,163 new car registrations in the whole country.
A slow recovery began in June, while July saw a 1% year-on-year increase in motor sales. September and August demand was consistently lower than in 2019 by around 1000-1500 units, whilst October and November saw greater discrepancies.
To improve momentum of the Spanish market, the government launched a €3.7bn plan in June to support the automotive industry. Spanish buyers were able to select a new vehicle, on the premise of scrapping an older one.
In a similar fashion to the Italian scheme, Spain introduced subsidies for low-emission internal combustion engine models. It was then possible for individuals to request a subsidy in order to partially offset the cost of purchasing a new model.
Faced with a second wave, the Spanish market also benefitted from more favourable regulatory circumstances. However, consumer confidence remains low in the country with individuals expressing reduced intent to purchase new cars.
The Nordics
Frequently, the Nordics lead by example. The pandemic was no different. There is widespread consensus that approach of Finland, Denmark and Norway – strict lockdowns in place immediately - was one of the most successful strategies in Europe in the early stage of the pandemic.
Conversely, the Swedish government opted against lockdown restrictions during the first wave but were subsequently hit by a perilous second wave, that pushed intensive care capacity to its limits. The country introduced its first commercial ban in November, resulting in a fall in consumer confidence and a decline in new car sales.
The divergent pandemic responses produced different outcomes for the individual Nordic markets, with stable car registrations in Finland, Denmark, and Norway, whilst Sweden continues in its struggle.
Despite their differences, the Nordic countries are united on successful EV incentives programmes, many of which were already in place before Covid-19.
Evidence suggests that across Europe, the EV market has been less impacted than the overall car market, as governments tried to encourage a sustainable recovery. As a global electric car leader, Norway has long offered consumers tax breaks, low road tolls, free parking, and other benefits for EV users. The Norwegian market likely benefitted from the well-established nature, and widespread popularity, of EVs amongst consumers.