Covid-19 piles the pressure on auto supply chains
Every level of the automotive industry has felt the impact of the coronavirus outbreak that began at the very end of 2019. Factories shuddered to a halt, customers were locked down in their homes, dealerships were unable to sell cars and supply chains faced disruption like never before. Although the industry has moved on from the mass shutdowns of six months ago supply chains are still struggling to adjust. GlobalData's Mike Vousden writes.
The availability of certain critical components is being called into question, forcing automakers to make tough decisions – either slowing or shutting production lines down until parts supply can restart, finding an emergency alternative supplier often at significant extra cost, chartering planes for emergency supply or even adjusting a vehicle's design to make it less dependent on supply of one particular component.
Among those automakers having to make tough decisions is Ford. It announced its upcoming Bronco SUV at the end of 2020 to near-universal acclaim – customers and reviewers were immediately sold on its retro styling, impressive off-road capabilities, and competitive price tag. Such was the fervour around the new model that Ford secured more than 150,000 pre-orders for the vehicle within just two weeks of announcing it.
With so many expectant customers, Ford would have wanted to ensure the launch of production-model Broncos was going to go without a hitch. At the very start of December 2020, Hau Thai-Tang, Ford's chief product platform and operations officer assured analysts at a conference that production Broncos were expected to roll off the line in spring 2021.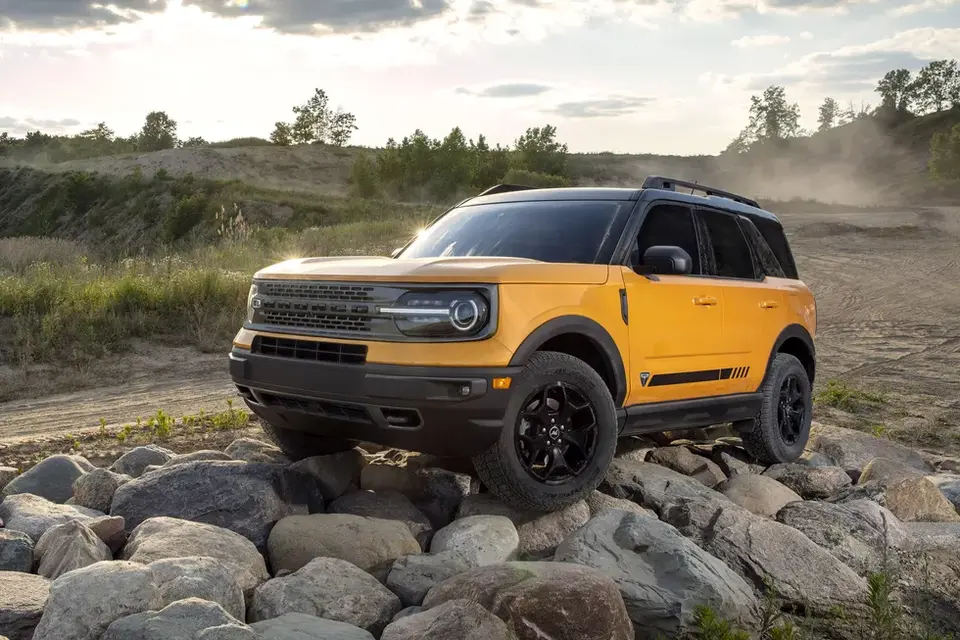 2021 Ford Bronco. Credit: Ford
However, mere hours later, Ford confirmed to the press that it now expected to launch Bronco production in the summer, leading to a slight knock in its share price. Ford cited "Covid-related challenges" experienced by its suppliers but did not elaborate on which parts or suppliers were affected.
Other automakers and suppliers are already ringing supply chain alarm bells. One particular area of concern is with automotive chips and circuitry – a field that is rapidly expanding as the number of connected and autonomous functions in cars increases.
Volkswagen, along with suppliers Continental and Bosch has raised concern that it expects production bottlenecks in 2021... VW, in particular, was concerned about the effect limited chip supply would have on its Chinese operations, where a much faster recovery from Covid-19 has seen the local market approach pre-Covid levels much sooner than western countries.
In response, chipmakers are laying out plans for how to respond to the growing shortage of supply. Germany's Infineon Technologies, for example, has increased investments in a new Austrian chip factory in response to projected car sales growth in 2021. In the Netherlands, NXP Semiconductors confirmed that it would raise prices across all products, citing increased raw material costs and chip shortages.
While 2021 will be a year of recovery for the automotive industry, it is also likely to be a bumpy ride.
Shortages of parts are not just limited to planned future models or anticipated future demand for electronic components. Established supply chains are also struggling due to Covid-19. Freight handling ports are struggling to keep pace due to either increased absenteeism or reduced through capacity at terminals due to Covid-secure measures. In some cases, emergency flights have been commandeered to keep assembly lines running and navigate around the backlog at freight terminals.
While 2021 will be a year of recovery for the automotive industry, which has shown itself to be astonishingly adaptive and resilient in the face of unprecedented challenge, it is also likely to be a bumpy ride.
Supply chains will face constant upheaval as the virus flares up and subsides in different countries at different rates, and only those that can adapt to the new normal are likely to survive in the long run. Added to this is further potential complexity of the UK leaving the EU.