- ECONOMIC IMPACT -
Latest update: 4 February
The overall market fell by just over 15.6% to finish on 75.1m for the year. The global SAAR in December was 88.6m, the second highest of the year.
December couldn't mask economic inequalities in world markets as Covid-19 wrought its havoc.
GlobalData's base global forecast for sales in 2021, 13.7% ahead of 2020.
The UK's 2021 car sales forecast, a 27% increase on 2020.
Impact of Covid-19 on Vehicle Sales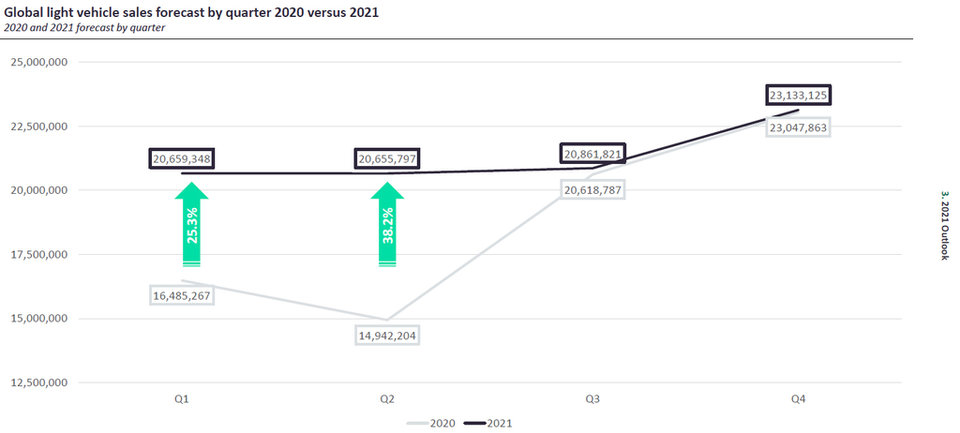 - SECTOR IMPACT: Automotive -
Latest update: 4 February
In December, India saw the greatest increase in new car sales (+17.9%), followed by Turkey (+15%), and Japan (+10.5%).
In North America, sales rose by 2.3%, led by the US's 4.9% increase, despite surging Covid-19 infections across many states.
With the end of the pandemic seemingly in sight as a slew of vaccines produce encouraging results from phase 3 trials, GlobalData has taken a look at the leading OEMs and assessed which are best placed to recover quickly from the coronavirus induced slowdown.
Aside from a dose of good fortune a company's success is invariably linked to a variety of factors which tend to either fall into the tactical or strategic categories. As even the best laid plans can often go awry, it is necessary to add to the mix how well those plans are executed and how they rate in comparison with competitors.
Top of the pile for operational leadership was revealed to be Tesla, followed by GM, Toyota and Hyundai Strategically the highest rated OEM of those assessed was demonstrated to be VW, with Toyota, Tesla, Ford and GM in pursuit.
We expect 2021 to be just as tumultuous as 2020. This will be particularly true in the first two quarters. Year-on-year comparisons against extremely low bases will come into play in the first half. For example, our current forecast sees a 21% increase in February's numbers globally, followed by 49% in March and nearly 72% in April, which will seem totally out of kilter with the fundamental macroeconomics.
However, this could spur consumer confidence, and coupled with vaccine rollouts around the world, a stronger market for 2021 than many anticipate may be in the offing.
For 2021 our base forecast now stands at 85.4m – that's 13.7% ahead of 2020, but 4% shy of 2019's total. Regionally, we see the strongest gains in South America (+22.9%), MEA (20.4%) and Europe (19.6%). For the major market of China, we forecast an 8.4% gain to 24.6m which will take the market to near parity with 2019. In the US, we see a 12.4% progression to 16.3m, while Germany is forecast to increase by 19.9%. Finally, in Japan we see a growth rate of 8.2%, taking the market to 4.9m.