While June's light vehicle sales show a 9.4% year-on-year increase, this was slightly below the forecast 14.9% gain for the month, with China's 12.7% fall in sales the most significant contributor to the weaker than anticipated market.
Performance in West Europe remained lumpy with Germany, Italy and France leading SAAR gains while the Spanish and UK markets saw selling rates fall back.
GlobalData's forecast for the year has been downgraded to 84.7m, 11.9% higher than 2020.
The UK's car sales forecast for 2021, a 16.2% increase on 2020.
Impact of Covid-19 on vehicle sales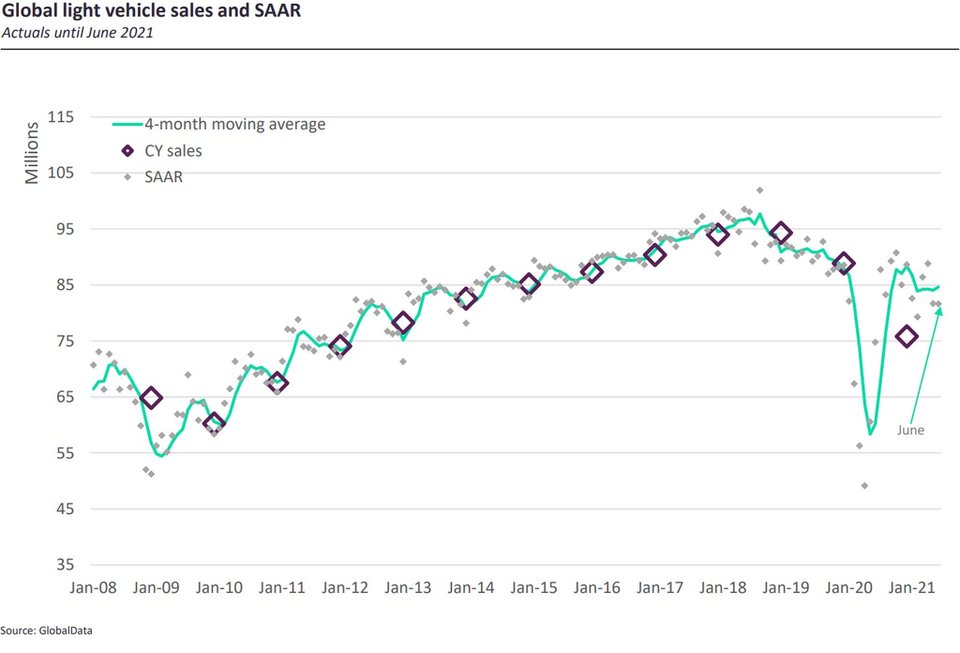 - SECTOR IMPACT: Automotive -
Sales in the Big Five European countries were up 10.4% in June.
The US saw sales increase by 21.6% in June, with YTD up 30.3%.
With the end of the pandemic seemingly in sight as a slew of vaccines produce encouraging results from phase - 3 trials, GlobalData has taken a look at the leading OEMs and assessed which are best placed to recover quickly from the coronavirus induced slowdown.
Aside from a dose of good fortune a company's success is invariably linked to a variety of factors which tend to either fall into the tactical or strategic categories. As even the best -laid plans can often go awry, it is necessary to add to the mix how well those plans are executed and how they rate in comparison with competitors.
Top of the pile for operational leadership was revealed to be Tesla, followed by GM, Toyota and Hyundai. Strategically the highest rated OEM of those assessed was demonstrated to be VW, with Toyota, Tesla, Ford and GM in pursuit.
We're starting to move away from 2020's extremely low base and YoY increases will become more tempered.
As such, the near double digit increase in sales in June was slightly below expectations. SAAR's progress is muted at the moment by both lack of inventory – slowing sales in the US in particular – and rising infection rates as more variants of concern emerge.
The stalling recovery was most apparent in North America, with SAAR there dropping by over 2m units. While in Asia Pacific China's expansion stalled, India's market bounced back out of lockdown with a selling rate on a par with April's number.
It was the recovery's laggard, West Europe, that performed most strongly. Gains in Germany, France and Italy masked fragility in the UK and Spain, with markets outside the Big Five following the lead of the stronger performing markets.
A new analysis by GlobalData puts the first half revenue losses incurred by OEMs at between $47.7 and $77.4bn. Losses will extend at least into Q3 but are expected to ease in Q4 as chip inventory is backfilled. Worldwide 141 plants have suffered shutdowns.