Thought Leadership Sponsored by OneSpan
The benefits of digitization for auto finance have long been recognized in the auto finance industries. Customers want simple, instant access to vehicle finance. Dealers want an easy process where the customer can drive off the lot with a financed vehicle after a single visit, without the burden of worrying about legal paperwork. Finally, auto finance providers want consistent, repeatable, and auditable processes across all dealerships, which require little administrative burden, but provide protection against fraud.
Agreement automation can help customers, dealers, and finance providers achieve these goals. Agreement automation for auto finance digitizes the customer's finance journey, including identity verification, agreement presentation, signing, and the capture of all supporting audit trails.
By automating the customer agreement process in-dealership, finance providers can guarantee that each and every customer goes through a consistent, compliant process which achieves a positive customer experience (a quick, pain-free process which enables them to access finance quickly), while protecting the provider against potential fraud.
E-signatures: Eliminating Paper Trails and Increasing Legal Enforceability
Wet signatures are a foundational component of financial agreements that have traditionally required customers to visit a dealership, or go through the time-consuming process of printing, scanning, signing and posting documents. This becomes even more painful if you're spanning geographical regions, the auto finance industry needs to ensure they're able to offer the same positive customer experience no matter where they, or their customers, are located.
Additionally, e-signature solutions can capture a comprehensive audit trail which records what the customer consented to, when and how they signed. This is a crucial capability so dealers and finance providers can be GDPR compliant and have legally enforceable agreements in place, in case a claim every arises.
When it comes to agreement automation, many dealers and finance providers start by adopting basic e-signature capabilities which eliminate the friction associated with traditional "wet" signatures. However, e-signatures alone are not enough. Organizations with semi-automated or siloed processes end up being highly insufficient from both a customer experience and risk perspective - either because paper agreements are manually processed in the back office, or because manual identity document verification checks are required.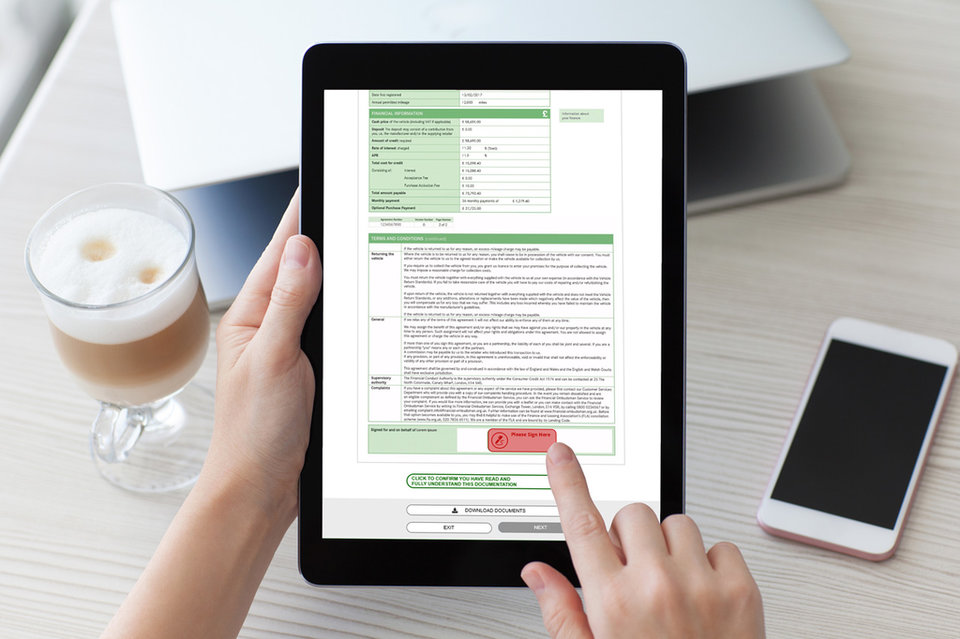 Context Aware Identity Verification
Customer identity verification has historically been one of the most challenging processes for finance providers to digitize. Up until now, it has either involved requiring a customer to physically come into dealership or by leveraging legacy knowledge-based authentication (KBA) authentication methods that rely on cross-checking information provided by the customer with third-party databases or credit bureaus.
The KBA problem is the static nature of the information, combined with the rise of large-scale data breaches. If the information is stolen, then it's all too easy for criminals to buy this information off the dark web and create new fake identities in order to open fraudulent accounts.
In order to verify identities securely and without compromising the customer experience, dealerships and auto finance providers need to adopt a context-aware identity verification approach, which combines risk analytics with multi-layered digital identity verification methods, such as identity document capture, facial comparison (e.g. "selfie"), liveness detection and behavioral biometrics. By doing so, finance providers are able to digitize an essential component of new auto loan account opening process that allows them to acquire new customers quicker while optimizing the digital customer experience.
There are a range of benefits to agreement automation and digitizing the account opening processes, including boosting application conversions, reducing abandonment rates, stronger regulatory compliance/legal enforceability and increasing operational efficiencies, all of which contribute to a more positive customer experience.
Dealers and auto finance providers are operating in an increasingly hyper-competitive market, and customers are no longer wedded to one provider. Agreement automation goes a long way to ensuring the auto finance industry can provide a secure digital customer journey, which will not only increase customer loyalty and retention, but also captures new customers from competitors.
Aysha Ellis-Aziz
Marketing Manager – Europe
121 W Wacker Drive, Suite 2050Chicago, IL, 60601, United States