Climate ambitions must be matched by dedicated policies
The transport sector is responsible for 22.3% of total EU greenhouse gas emissions, with passenger cars accounting for more than half of that. To achieve the ambitious emission goals set out by the EU, there requires a dedicated policy commitment from member states.
The European Commission recently published its '2030 Climate Target Plan', which proposes to cut greenhouse gas emissions by at least 55% in the next 10 years. The commission has also vowed to enshrine into law the Climate Law Regulation, which targets climate-neutrality by 2050 across all EU member states.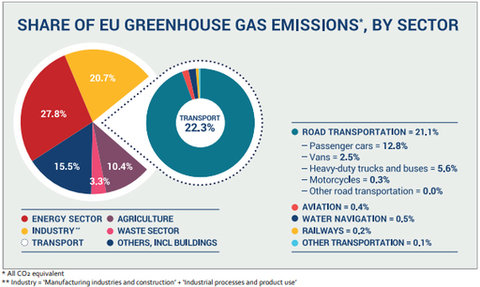 Source: European Environment Agency (EEA)
With the considerable greenhouse gas emissions the transport industry is responsible for, it will be a tall order to achieve the EU Commission's goals in the quoted timeframe – but it is possible; provided there are sufficient policies rolled out by member states to facilitate the change.
The European automotive industry has backed the EU Commission's targets, but has urged policy makers to legislate necessary policies for all vehicle types, noting that targets will not be achievable otherwise.

We need an unprecedented regulatory shift to ensure all the right enabling factors are secured.
"We recognise the desire to be a global trailblazer when it comes to climate action, but we will need an unprecedented regulatory shift to ensure all the right enabling factors are secured," said Eric-Mark Huitema, director general of the European Automobile Manufacturers' Association (ACEA).
"Until we have a clearer vision on the accompanying policy framework and the impact assessment, it is difficult to predict what a realistic scenario is in terms of future CO2 targets."
There has been a substantial reduction in new-vehicle CO2 emissions over the last 20 years, dropping by more than 30%, according to the ACEA. However the hard work being done by engine and vehicle efficiency improvements is being offset by five challenges – set out by the ACEA:
Growing demand for transport, both for passengers and freight (see table above).
Customers holding onto their vehicles for longer, meaning that it takes more time to see the full potential of new technologies on European roads.
Low consumer acceptance of zero- and low-emission vehicles. Despite the growing market share, numbers remain low due to higher prices and other factors.
The lack of charging and re-fuelling infrastructure, which remains a source of concern for many consumers considering their next vehicle purchase.
Lack of market acceptance/demand for low-emission technologies for commercial vehicles, especially from operators in the heavy-duty long-haul transport segment.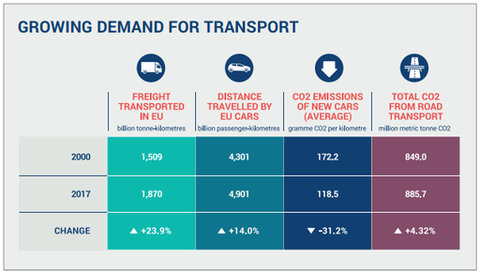 Source: European Commission, EU Transport in Figures Statistical Pocketbook 2019
The ACEA has published a 10-point plan to support the implementation of the Green Deal, but acknowledges the difficulty the industry faces in meeting the deadlines. A monumental effort is required from policy-makers and auto-makers alike, but with rapid technological development and growing environmental concerns, the task remains possible.