Has the market for used electric vehicles finally stabilised?
Paul Burgess, CEO, Startline Motor Finance
The last year has been a turbulent one for the used electric vehicle (EV) market and many dealers have been affected by dramatic reductions in values. However, new findings from our regular Startline Used Car Tracker research show that although attitudes are very mixed, the picture may be starting to change.

One the positive side, more than a third of used car retailers (36%) believe the EV situation has now stabilised. A high degree of trepidation remains though, with 20% of dealers expecting to see further falls in value of up to 10%, while a further 30% believe that coming reductions will range between 10-20%. Also, while 28% agree with the statement that the market is finding its level, 24% say consumer demand for EVs remains limited.
Interestingly, just 8% are concerned about the rapidly rising number of EVs that are expected to start reaching the used sector soon. Comparatively huge quantities of ex-company car EVs will start to be defleeted over the next year or two, representing a significant step up in volumes. There will need to be a corresponding increase in demand if values aren't to further suffer, which is potentially a worry.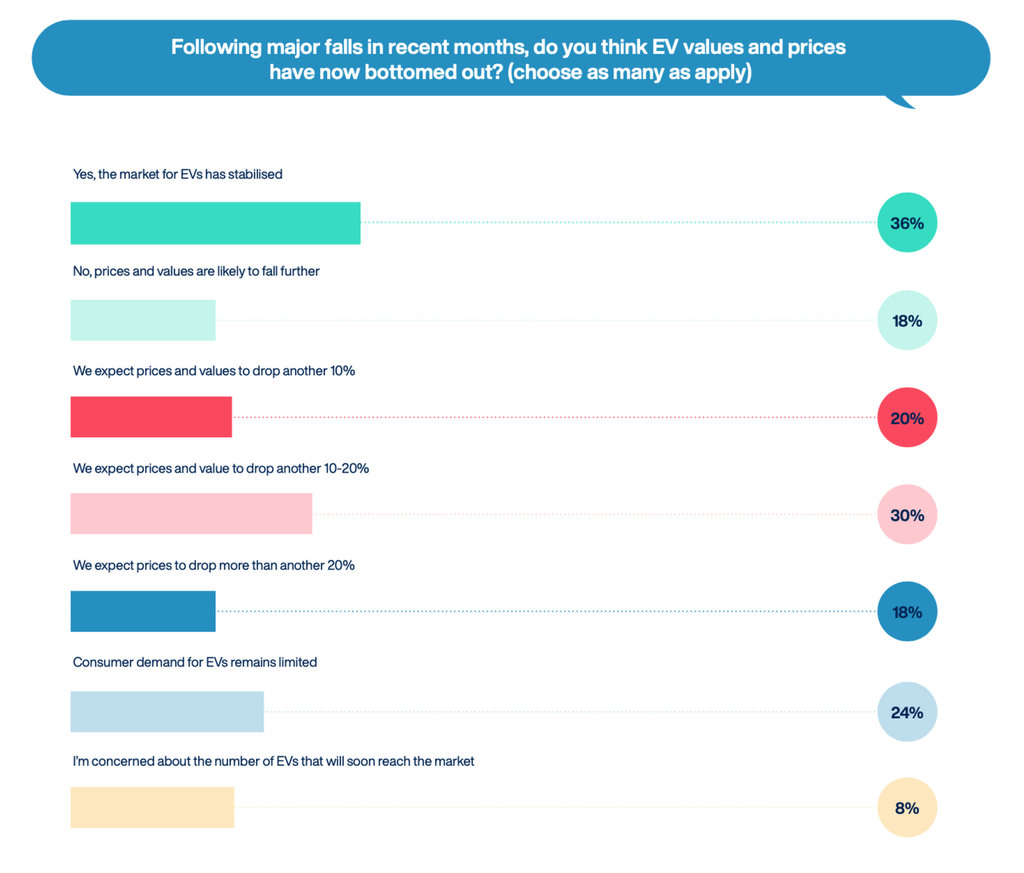 Beyond our research into prospects for the EV market, we also ask a regular question about attitudes to EVs and here, there have been some other interesting changes. Currently, just 12% of dealers say they don't stock EVs at all against 30% three months ago, while 22% say customer demand for EVs is now steady, compared to 2%. These numbers show quite a rapid change in sentiment and reveal that more retailers are stocking these vehicles while there is also increased confidence around consumer demand.
Overall, our feeling is that, while further shifts in values can't be ruled out, we are probably beginning to see a process of normalisation now getting underway in this sector. While there is still a high degree of understandable wariness among some dealers when it comes to EVs, they are quite quickly accepting that these cars are becoming a normal part of motor retail.
About the Startline Used Car Tracker
The Startline Used Car Tracker was launched in April 2022 to produce essential attitudinal data about the used car sector over time. Each month, it asks consumers about their propensity to buy, fuel choices and the factors that will affect used car purchases, as well as questioning dealers about their feelings regarding the prospects of the market, the challenges facing them and their online offering. The research is carried out for Startline by APD Global Research, well known in the motor industry for their business intelligence reporting and customer experience programs.
About Startline Motor Finance
Founded in 2013, Startline is one of the UK's leading motor finance companies, providing flexible solutions to around half of the top 50 franchise dealers and 70% of the top 50 independent car retailers measured by turnover, as well as accounting for more than 2% of the motor finance market by volume.

It aims to deliver market-defining levels of customer service, compliance, innovation and insight. The company is headquartered in Glasgow where it employs more than 170 people and has a comprehensive sales presence throughout the whole of the UK.