Meeting the challenge of Consumer Duty
More than 1,000 days of employee development time have created iVendi's "new benchmark" in motor finance technology.
As anyone who has worked with iVendi knows, we are not a company that stands still. Instead, we work hard to meet the needs of an ever-evolving motor finance sector, something that was notably true through the crisis of the pandemic.
However, even for us, the last 12 months have been something of a whirlwind – all thanks to Consumer Duty. More than 1,000 employee development days have been spent ensuring that our technology meets the needs of the new FCA regulations.
What has that work entailed? Well, we've created a whole new customer journey now in effect across all of our products – including the new range of three specialist Consumer Duty bundles detailed on this page. These enhancements are designed to provide dealers and lenders with the very best means and opportunity of explaining motor finance products and services to customers. They illustrate the price and value of what is being offered, ensure the car buyer has a good understanding, and show how they will be supported by the lender.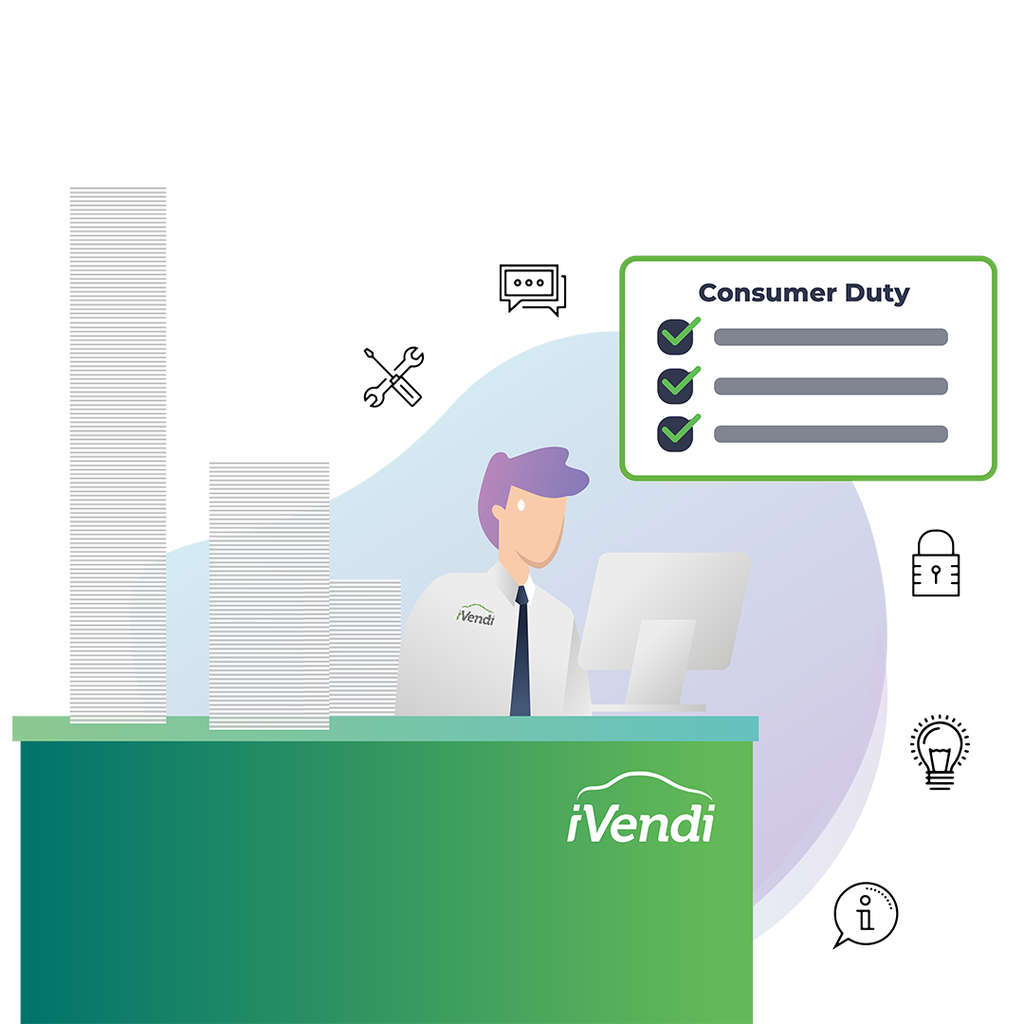 At the heart of this achievement has been a huge exercise involving all of the 60-plus motor finance companies with which we work, digitising their complete product offerings. We spent a long time discussing the best way to present this essential information to consumers, talking to everyone who is part of that process, and the final decision was essentially the most direct - to empower lenders to create their own product descriptions on our platform.
To us, this is by far the best option and one which makes our customer journey appealing for all parties. From a consumer point of view, there's very detailed information about the lender's products that enable them to fully understand, before any applications are made, which product is right for them. From a lender's point of view, it strongly personalizes our technology. Instead of just having lender logos, we now provide a layer of highly relevant, personalised content.
It should be noted how much effort has gone into this - from prime lenders through to specialist non-primes, there's been much impressive, creative thinking about videos, written explanations, questions and more. Consumers have access to a lot of high-quality guidance.
To be able to deliver all of this on one platform is, we believe, a unique iVendi achievement. As far as we know, no-one else in the motor finance sector offers an efficient and productive Consumer Duty customer journey that applies across so many different lenders and, in doing so, we've created a new benchmark.
The other major benefit resulting from the work we have done this year is the operational oversight that lenders can now gain from the platform. Our view is that compliance is now part of the true point of sale and, for the first time, lenders can access real time data showing how each customer went from A to Z in their journey – what they did, why and when? For us, this is not just about providing the evidence that the FCA desires using our online and showroom technology, but being able to build very detailed pictures of consumer behaviour.
From the very beginning of Consumer Duty, we've been saying that the information it requires should help to drive motor finance penetration through a better understanding of both individual and market needs. Our platform now delivers on that potential, we believe.
About iVendi's new Consumer Duty product range
iVendi's new Consumer Duty product bundles have been created to support dealers in meeting their requirements under the new FCA regulations, designed to satisfy the four outcome areas while aligning sales journeys with the three cross-cutting rules.
Consumer Duty Lite includes a finance calculator, online finance eligibility checking, multi-lender quoting and submission, FCA and commission disclosure status, lender-specific product information, lender product videos, product suitability assessments, support services signposting for vulnerable customers, customer credit rating, stock engine, customer self-serve, online finance applications, application interceptions and comprehensive management information. Classic adds iVendi's Digital Deal, which enables dealers to quickly create a tailored finance proposition for each customer, while Ultimate features showroom finance eligibility checking and online vehicle reservations. More information can be found at www.ivendi.com/consumer-duty-product-bundles.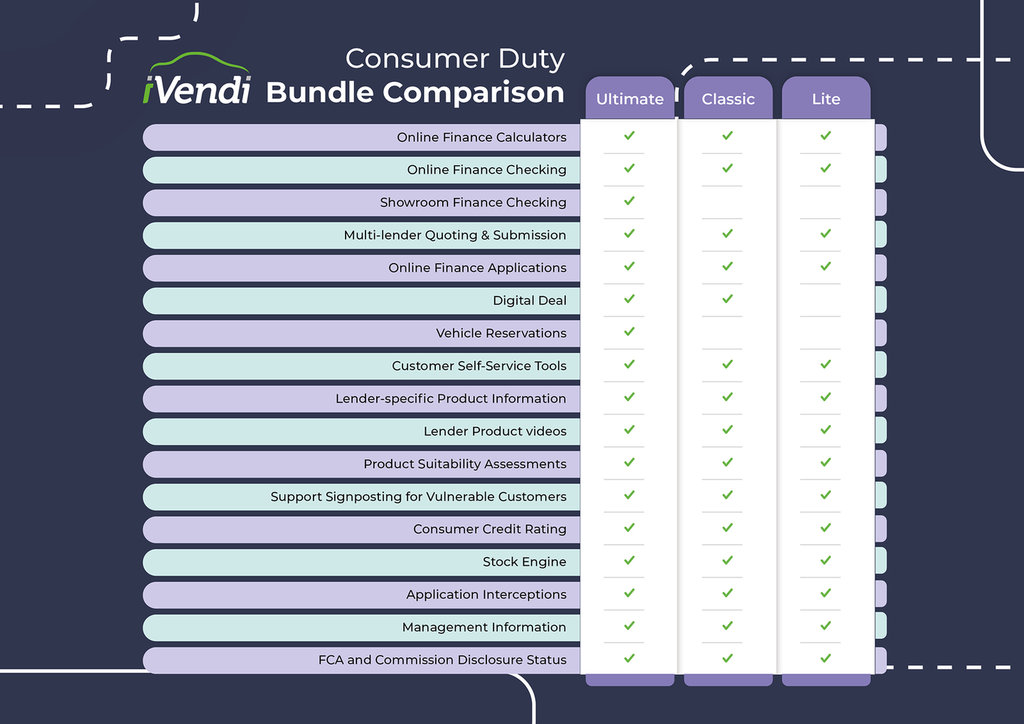 About iVendi
Founded in 2009, iVendi is the market leader in connected motor retail technology, creating digital products that help customers to buy vehicles and dealers to sell them more efficiently, both on online and in the showroom. Our technology interacts with around five million consumers every month and thousands of motor retailers, manufacturers and finance providers. iVendi is based in Colwyn Bay, Wales.
For more details, visit here.