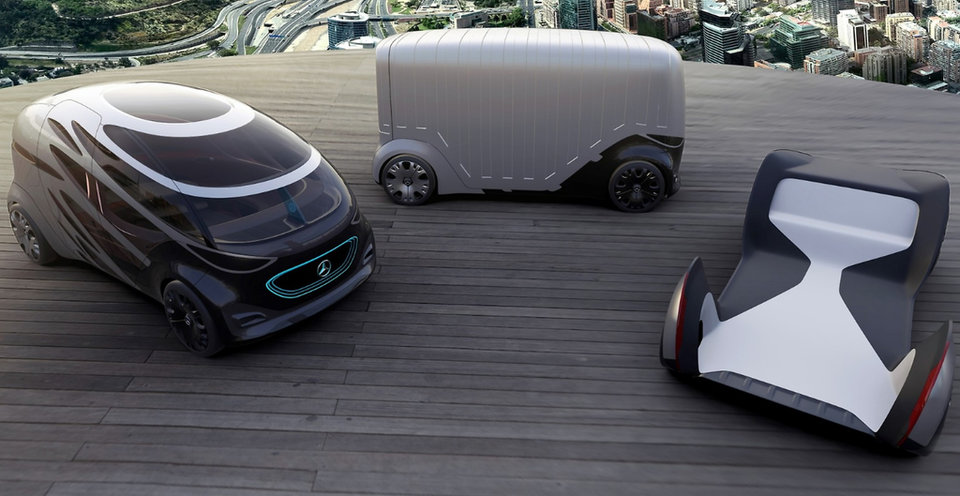 Daimler is moving from traditional manufacturer to mobility solutions provider
A range of innovations in the last 12 months mean the company can no longer be regarded as a traditional OEM
A selection of 'futuristic' BMW vehicles
Scroll down or swipe up to read more
The days of car manufacturers making their profit from factory assembly may continue for the indefinite future, but that doesn't mean multinationals are becoming aware, and to an extent shaping, alternate futures of mobility.
Daimler are a case in point, a name change in its finance arm from Daimler Financial Services to Daimler Mobility emblematic of a change in outlook. Announced at the InnoTrans 2018 trade conference in Berlin, Moovel, the navigation platform from Daimler Financial Services, is launching a "marketplace" allowing transit authorities to bundle their transportation services with third-party mobility offerings and integrate them into single-price passes.
Moovel users will be able to book and pay for services through the app. Transport modes covered include buses and rail as well as privately-owned car-sharing, ride-hailing and bike-sharing services. Perhaps most notable about this development is how incidental any direct use of Daimler vehicles is to the application of the technology.
"The digital marketplace offers a range of advantages to cities and transit authorities, helping with the transformation into a mobility provider across all modes of transport."
Moovel chief executive officer Daniela Gerd tom Markotten
The Moovel development links well to another Daimler project, titled Vision Urbanetic. Both self-driving and electric, these vehicles look to provide mobility solutions through providing transportation of both goods and people. The vehicles will be in almost constant motion on the roads, in an attempt to free up traffic and parking. Delivery options are advertised as becoming 24/7, one implication being the need to depend on drivers and overtime pay can be eliminated.
The Vision Urbanetic also advertises "continual route adaption using real-time traffic information." Mobility solutions are closely linked to these sorts of technological innovations, and OEMs worldwide are looking at tech breakthroughs which can be placed into their EVs and autonomous cars. For instance Waymo, the self-driving arm of Google, hasn't developed its own vehicles since retiring the Firebird in 2017. Since then it has been solely dedicated to placing its technology in other vehicles, perhaps most notably in a fleet of Chrysler Pacifica minivans.
Aesthetically, the vehicles Daimler are intending to make look undeniably ugly. They are such a visual affront as to be a statement of separation, signalling a soon to be bygone era when Mercedes-Benz were known for sleek vehicles that also emphasised luxury and success. The Vision Urbanetic vehicles are not designed to impress colleagues but to provide functional urban solutions to existing transport chokepoints.
As well as Vision Urbanetic, Daimler are pioneering the eDrive@VANs, and Mercedes-Benz eCitaro. Again, in combination these are vehicles that can transport goods or people, Daimler underlining a key concept in revolutionising the mobility industry- an empahasis on that fact that all types of vehicle regardless of size or function can become electric. Another arena Daimler have strived to increase their awareness of is noise pollution, and all of the vehicles mentioned are advertised as "virtually soundless".
No OEM wants to be the last in the race for technology and vehicles that can adapt to a new era. Daimler is aware of this, and has hedged its bets through its mobility solutions, utilising both its ability to produce physical cars, and developing technology that can be adapted by consumers and even other car manufacturers for innovative solutions to age old issues of urban transport.