De-icing automotive: industry unease following 2030 announcement
This month, Boris Johnson announced plans to accelerate the ban on ICE vehicles to 2030, generating a wave of mixed emotion across the industry. Motor Finance's Hannah Wright explores why many industry players feel left behind with the decision.
Despite battery electric vehicles (BEVs) achieving their third highest ever monthly share of new car registrations, they still accounted for just 9.1% of all vehicles sold in the UK in November.
Jamie Hamilton, head of electric vehicles at Deloitte, believes that the commitment to EVs should help convince consumers that it is worth investing in the technology ahead of the 2030 deadline. "The sector is already on a sharp upward trajectory, with EV sales poised to overtake diesel imminently. As an increasingly viable option for consumers, any additional boost to the EV sector could see the sales of electric vehicles challenge petrol alternatives."
Several UK manufacturers have recently picked up speed in the electrification of their ranges. Lotus has gained government support for an EV platform to showcase pioneering concepts, while Bentley unveiled plans in early November to go completely electric by 2030. From 2026, the brand will switch its model range, to offer only plug-in hybrid or battery electric cars.
The implications for the automotive industry are monumental; manufacturers now know that they must replace their entire product offering with electric vehicles in less than 10 years.
Whilst Bentley and other premium car manufacturers may be well placed to meet the deadline, what about the rest of the industry? From OEM's to motor finance lenders, how has Johnson's announcement been received across automotive?
Apparently, not too well. In responses across the sector, there is an overwhelming consensus that 2030 simply does not leave enough time for firms to electrify their operations.
"We knew it was coming," said Steve Nash, chief executive of the Institute of the Motor Industry (IMI) "The implications for the automotive industry are monumental; manufacturers now know that they must replace their entire product offering with electrified vehicles in less than 10 years. That can surely only mean that their ranges will shrink significantly compared to today."
Whilst the IMI have welcomed the opportunity to engage with government over the plans, Nash expressed concerns: "As usual, it seems little thought has been given to the swathe of businesses and individuals employed by the automotive industry beyond manufacturing. Yet it is this ecosystem – from the distribution chain of car dealers to service & repair and even accident recovery – that fundamentally underpins the governments ambitions."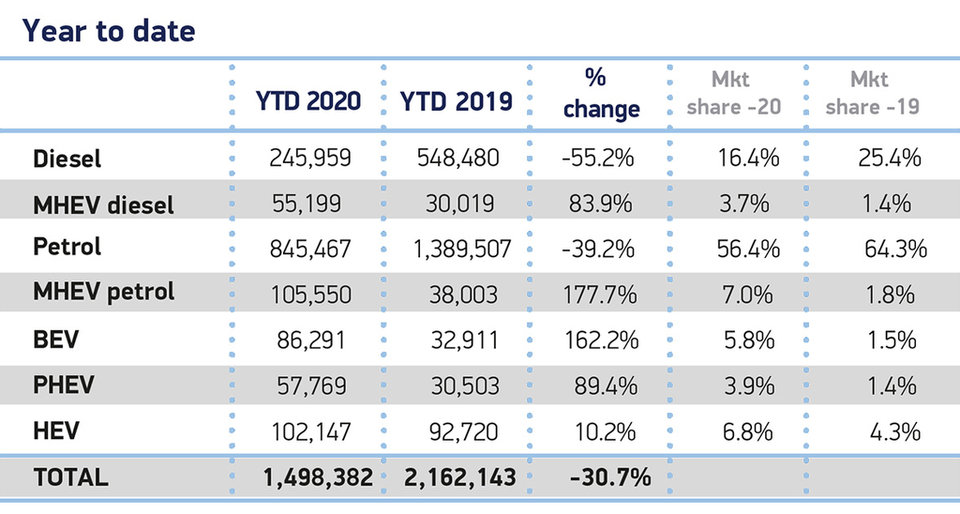 Latest statistics from the SMMT
The devil is in the detail – currently only 5% of UK automotive technicians are adequately trained to work on EVs. As the quantity of EVs hitting the roads increases, simultaneously so will the demand for appropriately equipped personnel. With only nine years to go, the government must urgently invest in upskilling and retraining schemes, committing a necessary portion of the £12bn investment to developing the new EV task force.
Reaching the furthest point on the supply chain, potential issues in EV adoption persist. Widespread consumer attitudes towards EVs may also hinder uptake of the models before 2030. Transforming public perception towards EVs must be a priority, particularly as there is still a hearty dose of scepticism surrounding the transition to 100% electric. One possible scenario could see consumers sticking to the status quo, seeking to purchase from the second hand motor market, over opting for an electric model.
A seamless phase-out of ICE vehicles is contingent on particular market conditions, such as adequate charging infrastructure, consistent supply and sufficient demand.
Whilst there are major financial and environmental benefits associated with the electric transition, any wholesale change "requires careful planning around infrastructure and operating models," agrees Hamilton. "With the timeline now set, the race is on for the UK's charging infrastructure to keep up, with capacity likely to be tested at peak times. Continued coordination with charging infrastructure planning is essential for the sustained growth of EV adoption."
Currently, users of EVs in the UK are heavily dependent on home charging technology, with domestic units representing more than 90% of all chargers. A report by the International Council on Clean Transportation recently revealed that the UK has only installed 7% of the workplace, public and fast-charging infrastructure needed to support a world where EV sales reach 50%.
The pandemic has demonstrated the importance of being prepared for when a crisis hits.
Fortunately, the government is set to unlock £500m worth of funding for charging infrastructure from next year to tackle this acute shortage. The funds are expected to finance new grid connections, enabling remote facilities such as motorway service stations to install more rapid charging points.
That a green recovery can be pushed aside while firms and the broader economy regain strength is a dangerous notion. The pandemic has demonstrated the importance of being prepared for when a crisis hits. If we thought we were unprepared for the pandemic, then we must seriously brace ourselves for climate change.
Whilst 2030 is rapidly approaching, so are nature's tipping points. The consequences? Life-threatening air pollution, ocean acidification, biodiversity loss, to name a few. I don't know about you, but I certainly know which deadline I deem more alarming.