- ECONOMIC IMPACT -
Latest update: 20 September
August's light vehicle sales have now been reported for all global markets, revealing a 7% year-on-year decline. This follows July's 4.5% fall (previously estimated at 5%).
The change was felt most acutely in a US market where sales declined 17.3% year-on-year and giving the market its lowest SAAR since April 2020 at the height of the US's first wave of lockdowns.
GlobalData's forecast for the year has been downgraded to 81.7m, 8% ahead of 2020.
The UK's car sales forecast for 2021, an 11.4% increase on 2020.
Impact of Covid-19 on equity indices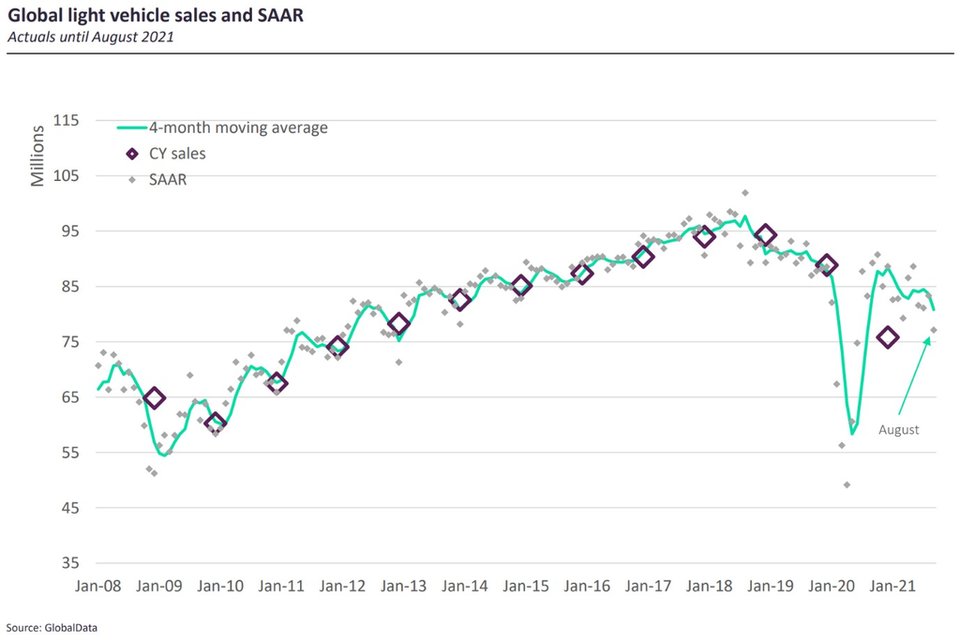 - SECTOR IMPACT: Automotive -
Latest update: 20 September
Sales in West Europe were down 18.5% in August.
India was the only major market that reported an increase, up 13%.
August was a watermark moment for not only the 2021 outlook, but also for what 2022 and beyond will look like.
First, there was the 17.3% decline in US light vehicle sales, followed by the Toyota announcement of substantial production cuts. Embellishing these two points were a succession of industry CEOs not seeing an end to the chip shortfall to 2002 or even 2023. Quite a change from the H2 2021 easing all had considered on the cards before.
The deterioration in the outlook has brought substantive downwards adjustments to the sales forecast.
The acceleration of the previous month's trend showed that supply shortages are beginning to deepen their impact in the automotive space. Ordinarily, the automotive sector is led by new vehicle demand but here it is production which is calling the shots. In some ways this is a positive development for the sector – prices are more controllable and the mix can be richer enabling OEMs to sustain and/or improve profitability against a backstory of declining sales.
On the back of August's results and a worsening short- to medium-term outlook for chip supplies – this time based around downstream chip activities in Malaysia being disrupted by COVID lockdowns – a significant downwards revision to our 2021 forecast with nearly 3m removed from the year's forecast. On this basis we expect sales to finish the year at 81.7m units, 8% ahead of 2020 but 8% behind 2019's total.
Globally, for H2, we now see that both Q3 and Q4 sales are expected to finish below those of the prior year. Q3 is forecast to be 8.5% down on the prior year and Q4 6.2% below