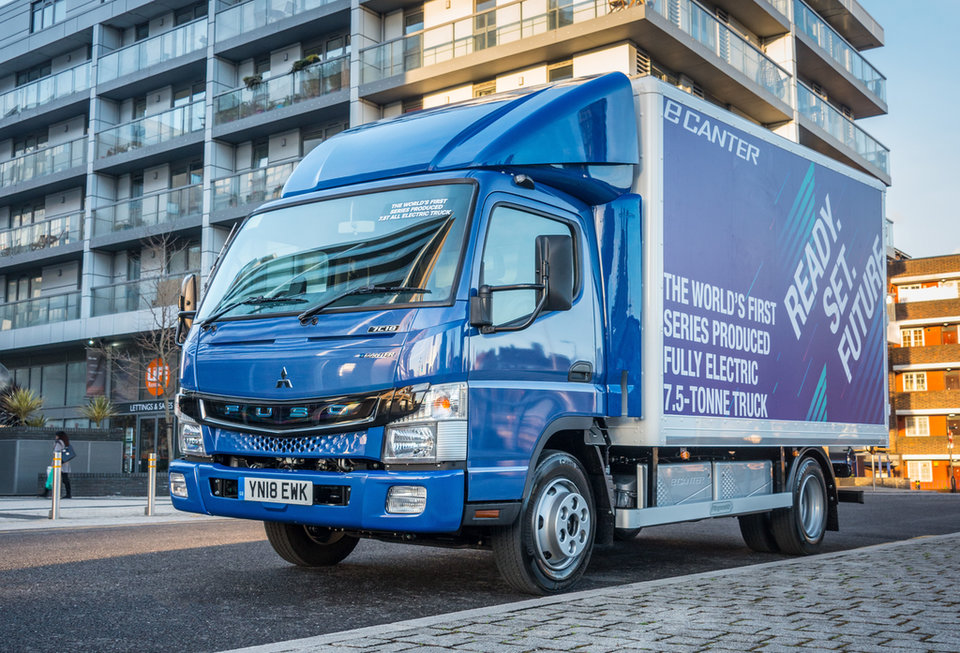 Daimler's Fuso eCanter launch marks start of electric truck revolution
The launch of the Fuso eCanter could be the first spark in a revolution in the power trains of commercial vehicles, writes Jonathan Minter
Scroll down or swipe up to read more
The electric car revolution is, in many ways, upon us. Although electric cars sales are still comparatively small, they are growing rapidly, often by double digits, as more and more manufacturers release either electric versions of existing models or new models designed and built from the ground up as electric cars.
Move into the commercial space, and the situation is very different. At the smaller scale, there are some electric and hybrid vans. Move into the lorry and truck space, and options quickly become much more limited. While there are a few electric and hybrid vans, it is only with the launch of Daimler's Fuso eCanter that a full electric truck of 7.5 tonnes or more has been available.
Even now, it is currently only available in limited numbers – at its launch event, the company said it planned on only releasing 500 hundred of the current model of eCanter, before a revision (eCanter 2.0) is released in 2019 – the same year electric car heavyweight Tesla is planning on releasing its 'Tesla Semi'.
Not that the two will be competing for the same market. Whereas the Tesla is a long haul, large truck, the eCanter is much smaller and, with a current minimum range of 100km, designed for urban use.
For Daimler, there is logic in choosing the urban environment. On a technological front, commercial vehicles driving around cities will need less range. Tesla has promised ranges of between 300 and 500 miles for its trucks, something it will need to hit for the long haulage industry. By focusing on urban environments, Daimler and Fuso do not have this worry.
That said, the eCanters minimum range of 100km will not be enough for all customers, as even Daimler's own figures show 30% of its customers drive over 60 miles a day (96km). The 100km is only a minimum, though, and Daimler seems confident it will exceed that. Also, as battery technology and internal vehicle designs improve, Daimler is estimating the range of its trucks will jump to 180km with the eCanter 2.0.
With the current climate around the use of diesel vehicles in cities and the issues of air quality in most major urban areas around the globe, in many ways focussing on producing an electric commercial vehicle designed for urban use makes sense.
From an environmental impact point of view, the improvement is immediately apparent. According to Daimler, switching from a conventional combustion engine 7.5 tonne truck to an eCanter saves 16 tonnes of CO2 per year. Multiplied out, this means 1,000 eCanters would mean 16,000t less CO2 per year, the equivalent of having a dense forest 17 times the size of a Hyde Park.
From a lifestyle point of view it also makes sense. Electric vehicles are, as a rule, much quieter than their petrol and diesel brethren, meaning less noise pollution in built up, urban areas. These vehicles are able accelerate rapidly and smoothly, something drivers will no doubt appreciate, given the stop start nature of driving in London.
Ultimately with only 500 vehicles due to be sold over the next year, the initial run of the eCanter will likely not make a huge mark on the city scene. What Daimler will be hoping is that it acts as a proof of concept that electric tucks really can work, and that – as the regulatory environment becomes less and less friendly towards diesel cars and electric vehicle technologies become cheaper – it helps position Daimler and Fuso as leaders in what will no doubt become a growing field in the coming years.