- ECONOMIC IMPACT -
Latest update: 20 January
Sales remained weak in December, finishing 12.5% down year-on-year, and marking the sixth successive month of decline for the global market. The weakening demand picture first became apparent in July as the chip shortage began to whittle away inventory with many OMEs forced to slow or shut down production.
Omicron does not appear to bring as much risk to the 2022 outlook as one might have thought just a month ago. While more transmissible, the strain is less virulent, and these factors combined with high immunity - either from vaccinations or virus infection – are expected to bring less direct effect on economic activity as governments respond with policy actions. Additionally, as has been observed, markets are generally more resilient to lockdown shock than they once were, largely due to the initial efficacy of vaccine programs.
GlobalData's forecast for the total car sales this year sits at 84.1m
The UK's car sales forecast for 2022, a 3% increase on the previous year
Impact of Covid-19 on Vehicle sales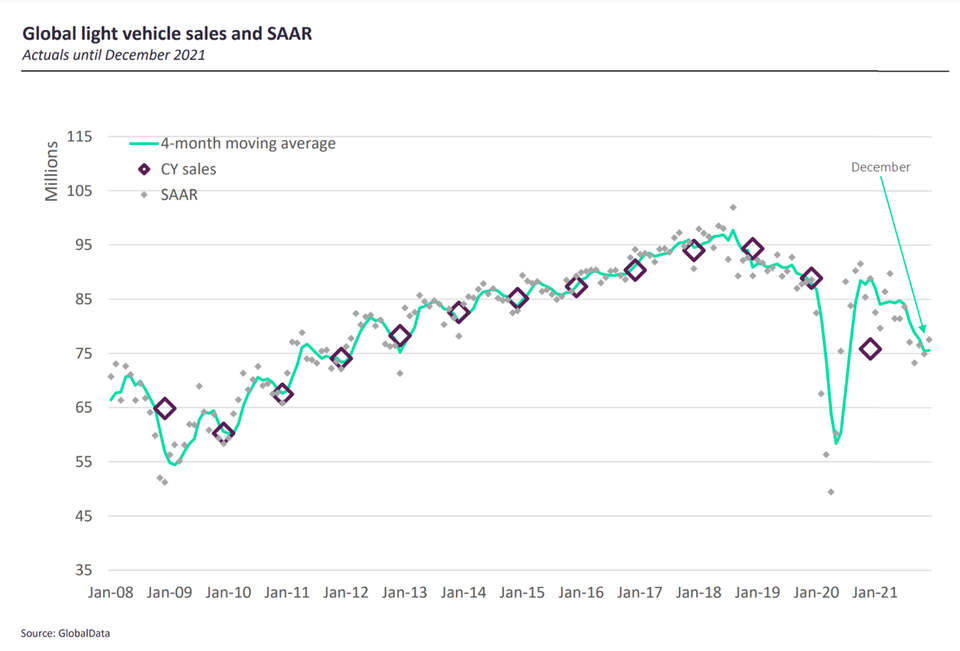 - SECTOR IMPACT: Automotive -
Latest update: 20 January
North America and Europe both observed a 6% increase in SAAR
South American market saw an increase of 1.8%
Omicron aside, the current lack of momentum is expected to continue into H1 2022, but with build back by OEMs mounting as we progress through the year improved supply should see sales pick up in H2 if omicron's threat can be mitigated.
Nevertheless, the market's stall in the first half of the year will still see a market of just 84.1m – about the same level we would have expected for 2021 if the chip crisis hadn't intervened – and 5.2% ahead of the year just past.
It remains an inverted situation in markets at present – market levels are led by production. While there is a decent level of demand in markets at present some macroeconomic storm clouds are gathering. Pressures from energy costs and inflationary sources are rising. This could bring a slowing in demand before chip supply is realigned. On the flip side, fiscal stimulus is still abundant in many economies and personal mobility needs are high.
Anemic sales patterns seen in the second half of H2 continued in December. A selling rate that was ahead of November's – at 77.6m or 3.6% higher - did provide some solace though. Disruption from omicron did not materialize.
Apart from zero-COVID countries the less virulent but more contagious strain is being faced without the draconian lockdowns of previous waves. Effectively this means that the dominant determinant of demand for the present remains inventory levels. On that front too there appears to be good news.
The chip crisis nadir has seemingly passed and build is no longer as disrupted. In December, all major regions in aggregate saw improvements in selling rates.